Bio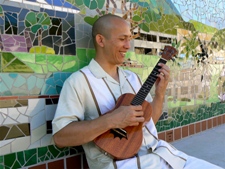 Darin has performed at Carnegie Hall, Staten Island Stadium (NY), at the Na Hoku Hanohano Awards and on the Don Ho show. He has toured nationally with the Hawaiian super-group Hapa, with multi-Hoku Award vocalist Jon Yamasato, and as a solo act. Darin's music has been featured by award winning film producer Edgy Lee, Hawaiian Airlines, national television networks TLC, the History Channel, Animal Planet, and NBA Entertainment, and has been widely played on satellite, internet and terrestrial radio. Darin's music is also featured on the compilation, "Hawaii: The Greatest Songs Ever," distributed internationally by EMI Music. In 2008, Darin was nominated for Na Hoku Hanohano Awards in the "Best Instrumental Album" and "Most Promising Artist" categories. In 2010, Darin was nominated in the "Engineering" category for his work on Jeff Peterson's album, "Maui on My Mind." In 2011, Darin was nominated for a Grammy Award for his recording engineer work.
Born and raised in Honolulu, Darin learned to play Hawaiian music alongside his high school classmates. During high school, he received guidance from some of the great guitar players in Hawaii, Barry Flanagan (Hapa), Lisa Smith, and Bobby Moderow (Maunalua). Rooted in the learning gained in Hawaii, Darin set off to college to obtain a classical music degree from Pomona College in California. After four years of classical guitar training under surfing legend Jack Sanders, Darin made his way east to New York City where he spent five years expanding his musical palette. Darin returned home to Hawaii in 2007 to rejoin the Hawaii music community.
Darin's music is a blend of Hawaiian slack key, folk, fingerstyle and classical. He performs solo, as a duo with multi-Hoku Award winner Jon Yamasato, and with the acoustic Hawaiian trio Pineapple Tree. Darin can also occasionally be found performing with the likes of Raiatea Helm, Leokane Pryor and island-soul-jazz group Mango Season.
Darin's acclaimed release, "Five Years and Many Miles" displays his guitar and ukulele sensibilities, and was inspired by his time in the Big Apple. John Berger of the Honolulu Star Bulletin describes "Five Years and Many Miles" as a "beautiful all-instrumental calling card."
Darin has received wide praise from commentators and musicians alike. Wayne Harada of the Honolulu Advertiser labels Darin as a "master communicator. . . able to send images and remembrances of times and themes that touch the soul." Classical guitarist Jack Sanders calls Darin's music "unfailingly beautiful." Music columnist Ken Volpe describes Darin as having a "gift for melody and execution on multiple stringed instruments."