Mahalo to everyone for your support at the Hokus! It was a fantastic night and a complete honor just to be there! There were so many great moments, like when Robert Cazimero gave me a big hug after my performance, talking story with Kawika Kahiapo, encouragement from Jon de Mello and Leah Bernstein, taking pictures with Jon and Ernie Cruz, saying hi to Eric Gilliom. I was like a kid in a candy store. Thank you to all of you for helping me get here.
Here's a pic that ran in the Honolulu Advertiser: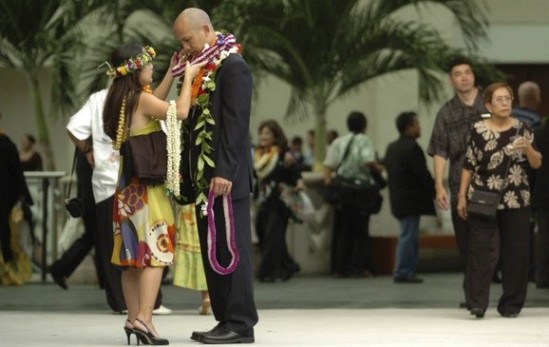 I am so excited to announce that nominees for the Na Hoku Hanohano Awards have been selected, and I've received two nominations!
Instrumental Album of the Year, &
Most Promising Artist
This is a total thrill for me! It will be wonderful just to meet so many people I've admired and attempted to emulate since childhood.
To all Hawaii Academy of Recording Arts members, thank you for your continued support and see you at the Hokus!
Aloha,
Darin
So, the Hoku Award results (Hawaiian version of the Grammys) have been announced. This year was particularly exciting for me, given the enormous amount of new talent. In such a small industry, it's great to see new faces. More than anything else, that is a sign of health for the Hawaiian music market. For all of you looking for some new bands, check out Holunape. These guys have a wonderful traditional Hawaiian sound. Looking for another blazing uke player? Try Abe Lagrimas, Jr., an exceptionally talented guy. Of course, there are some old favorites too. Hapa continues to push the envelope of Hawaiian music, and it's great to see that people who stretch the boundaries can still be recognized by the Hokus. There are so many more, Aaron Sala and Kaumakaiwa Kanaka`ole just to name a few. My pick to sweep the awards next year: Barfoot Natives.